Our little ones have definately achieved a lot during their growing up years!
The achievements are just sooo precious that it would be soo Great if we could scrap about
every single achievements made!!!
"I DiD IT"
Challenge #10
Our layout challenge this month
is to scrap an achievement made by your little one...
it could be of anything!!
The layout has to be multi photos
and do include journalling as well.
Scrappin Kids is proud to announce our
July Guest Designer
Anne-Marie

Anne-Marie is from Singapore
She is a proud mom to 2 lovely children
and has been scrapping for 4 years
"Hi! My name is Anne-Marie and I'm from sunny Singapore.
I'm a SAHM to Ethan and Hannah, my 2 lovely children.
I'm a self-confessed scrapbooking addict
and have been scrapping for about 4 years now.

I love the ability to record and preserve memories
for my family as well as the ability to create.
I love to see how my scrapbooking style
has evolved over the years and right now,
it's a little bit of everything.
My family – husband, Jonathan and kids –
& God are my inspiration.
I'm very blessed indeed to have a warm and wonderful family.
We were also given an awesome opportunity
recently to relocate to beautiful Switzerland.
Our family will be here till end 2008
and it's been a blast thus far -
we definitely have a lot of memories
from Europe that I'll be scrapping about. :)

Other than scrapbooking, I also love photography and baking."
Here's Anne-Marie's lovely take on this challenge
Firstwalk

"A few days back, my daughter walked to school for the first time by herself.
The school isn't that far away (about 7mins walk)
but I think it's a great accomplishment for a girl her age.
I was so proud of my little girl
and I had to document this "FIRST"."
Journalling
"Time really flies.
It seems like just yesterday
when you were still drinking from your milk bottle
but look at you now, walking on your own to school.
Mummy's so very proud of you."


Here are the layouts by our Resident Designers
Proud of You
Jasmin Brahim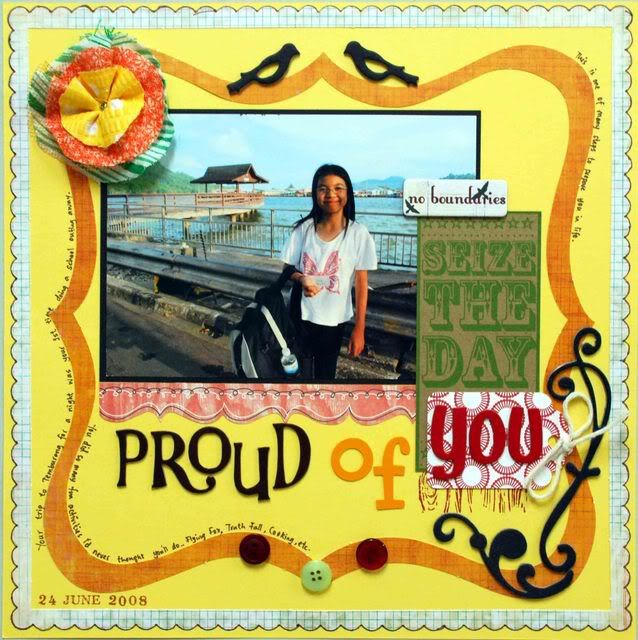 "
This time I did a layout for my eldest child, Nabilah. For the whole of last week, her school had an Activity Week. She chose to attend a group trip to Temburong. This included staying in the realms of the rainforest and got involved in many outdoor activities which included doing a Flying Fox across a river, doing a Trust Fall, cooking barbecue with her outdoor group, climbing up and walking the "Rainforest Canopy Walk" and of course enjoying the 45-minute boat trip to Temburong from the Brunei River, via the Brunei Bay and into Temburong River. Nabilah is naturally a quiet girl but has grown to be showing more confidence and now in her first year of secondary school. Having her attended this school trip, both DH and felt a sense of pride as this is her achievement - one that will help mould her character."
Journaling:
Your trip to Temburong for a night was your 1st time doing a school outing away.
You did so many fun activities I'd never thought you'll do....Flying Fox, Trust Fall, Cooking, etc.
This is one of many steps to prepare you in life.
Stand Up
by Liza

"This month's challenge is a perfect opportunity
for me to document Aaqil's great achievement
when he was only 7 months!
I wanted to focus on his step-by-step photos
in this LO thus the minimal look ."
Journalling in the title"Standing up at 7 months all by yourself"

At Last
by Wati

"Adam loves playing at the playground,
but he has a fear of walking on thin rope by himself
After Papa coached him a few times,
he finally got the guts to walk by himself.
I was so proud of it and thank God
I managedto take a pic of it as well :)"

Journalling
"You had the fear of walking on thin rope
at the playground.
But finally you made it on your own!"
Check out these lovely layouts by our Design Team
Learning to Write
by Cookie
Journaling
"Mommy, can i try? to write?"
"Oh sure you can, baby... I'll be very happy to teach you."
You can now write a,b & c...
then later, the whole alphabet.
You just make me feel so proud."

Perfect Score
by Issa
"Enzo turned 4 last March and the first attempt
to know that he is now ready for school
is an entrance test to pre-school.
I didn't review or teach him before the test,
thinking that this will determine his level of learning.
After an hour of oral and written test,
I was so surprised he got a PERFECT SCORE
and passed for Junior Casa Class."

Journalling
"I never thought that you would get a
perfect score in your pre-school entrance test!
Now I know that you are now ready for SCHOOL!
Ready to learn the ABC's and 123'a of life..."
Precious AchievementsBy Jessy

"I really love this challenge
because it gave me sometime to sit back
and see one of my student, Alia what she has achieved so far.
It made me feel like I have achieved being a good teacher too!!"

Journaling:
"Alia to see you decorate, write and
create a beautiful Valentine's card for you mum
is one the greatest achievements I have see in you!

On The Move
by Sara

Journalling
"I was so proud once you started to crawl.
You took those first steps towards it
when I wasn't here to see it
but your first full blown crawl
I did and it was beautiful to see.
At 6 months old we knew you were 1 smart boy."

Do link your layout (on your blog) in the comments section
or send us a copy by email to
scrappinkids4@yahoo.com.sg
Please submit by
Thursday, 31st July 2008 Midnight Eastern Time

International scrappers are most welcome to join this challenge.
This "I DiD It!" July, Scrappin Kids is honoured to have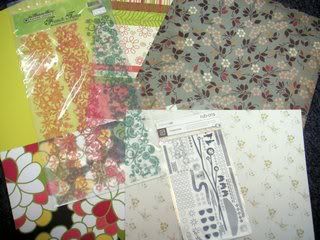 Our Craft Place
sponsoring this RAK.
Scrappin Kids will pick one favourite layout
and the winner will be announce on Friday, 1 August 2008
Do share with us your creations!!