A very Happy New Year to everyone
from all of us at

Scrappin Kids
Its a
FresHiE January
,
and a lot of FresH things will be happening in our lives this month. At
Scrappin Kids
, there will also be FresH things happening here as well.

FresHiE Challenge #4

How did you spend your December Holidays?
The challenge this
FresHiE January
is to do a layout
of what your lil ones did during their December holidays.
Scrappin Kids

is proud to announce our
January Guest Designer
Irene Tan
Irene is from Malaysia and she is a proud mother of two.
She had been scrapping since 2005. But she stopped from early 2006
for more than a year due to a complicated pregnancy.
Thankfully early this year, she continued her passion.
A couple of months later in June this year, Irene discovered stamping.
"For me, scrapbooking is really about family and friends.
My favourite topic is to use those photographs captured during
the everyday life of my loved ones.
Scrap with your heart, not because you're obligated,
and remember, scrapping is all about having fun!!"


Here's Irene lovely take on this month's challenge.



Fun

by Irene
"The school holidays had always been a busy time for the parents and fabulous fun moments for all the kids. My son loves to spend most of his holidays playing in the pool.
It can be clearly shown in this photograph of him while in the pool."

Here are the lovely layouts by our Residence Designers

Ee's Birthday Cake
by Jasmin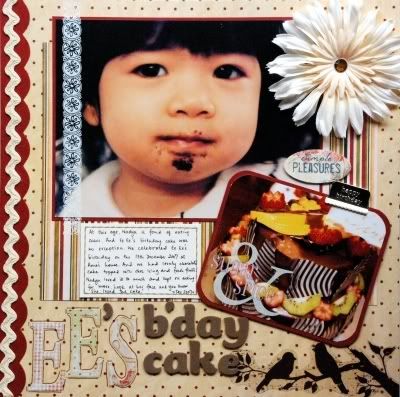 "For us, December is also a time when we celebrate my sister's birthday
who my kids lovingly call Ee Ee. And as with any other family member's birthday,
we had the birthday cake out during our get-together.
This was a delicious rich chocolate cake topped with chocolate icing and fresh fruits....slurrp!! Anyway, Nadya is really fond of cakes and anything edible basically!
So this cake just attracted her attention...she loved the fruits and cake itself.
And as you can see the photo speaks for itself!"


Journalling:
At this age, Nadya is fond of eating cakes.
And Ee Ee's birthday cake was no exception.
We celebrated Ee Ee's birthday on the 13th December 2007 at Ama's house.
And we had lovely chocolate cake topped with choc icing and fresh fruits.
Nadya loved it so much and kept on asking for more.
Look at her face and you know she loved the cake!

Fa la la la
by Leena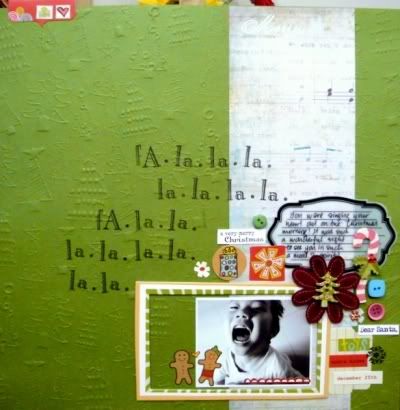 "Ethan has been really in high spirit during this festive season
especially during Christmas, always singing & dancing away throughout the day.
Although we did not really celebrate Christmas, but he really brings out the
mood of Christmas and we were happy enough to play along with him.
We hope next year we are able to put up a proper Christmas tree
to show him the real meaning of Christmas celebration."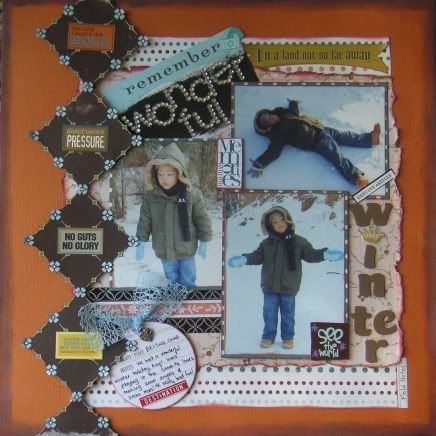 "We had a wonderful holiday in Beijing and I love these shots of Aaqil
playing in the snow that I absolutely had to scrap them!"


Journalling:
We had a Wonderful Winter Holiday.
Aaqil loves playing in the snow.
He loves making snow angels and snow men! He really had fun!
Wassup?
by Wati
"This year, we will only be going for our year end holiday at the end of December.
But Adam did manage to have fun in Singapore.
This photo was taken during Adam's playdate at Go Go Bambini.
It was his 1st time playing with the balls and he enjoyed it!
I really love this photo as that look is just too precious! "

Do link your layouts (on your blog) in the comments section
or email us a copy to
scrappinkids4@yahoo.com.sg
You have till Thursday 31st January 2008
Midnight Eastern Time.
International scrappers are most welcome to join in.

This FresHiE January, Scrappin Kids is honored to have
My Scrap Affair sponsoring the RAK.

Our Residence Designers will pick one favourite layout
and the winner will be announced on
Friday, 1st February 2008.

The winner will win the RAK below
Do join in the FresHiE Fun!